DOWNLOAD
Download resources about AdAstra-Soft real-time kernel and libraries.

Most of the projects were updated on Jan 16, 2023
TinyUSB 0.13.0 added for F4, G4, L4, H7 families on May 07, 2022 (TinyUsb on Github)
For beginners, this page can help you create a TrueSTUDIO or STM32CubeIDE workspace and import a project downloaded here.
Please let us know what you think about what you are downloading.
Thank you.
---
AdAstra-RTK manual (STM32 edition)
English version AdAstra_RTK_2022_03us
French version AdAstra_RTK_2022_03fr
---
F1: NUCLEO-F103RB and "Blue Pill"
This package contains ready to use projects configured for development. The port handle all the F103xx family: It is suitable for NUCLEO-F103RB, Blue Pill, etc.
---
F4: The WeAct STM32F411 BlackPill
It would be interesting to stop using "Blue Pill" and start using the "Black Pill" variant of WeAct Studio. For a price barely higher you get a real STM32F411, being careful where you buy it.
An interesting presentation: BLUE PILL VS BLACK PILL: TRANSITIONING FROM STM32F103 TO STM32F411
For official technical information, schematics and reliable source see WeAct at github. It is very valuable to obtain the real schematics of a board.
To recognize a genuine board WeAct recommends checking the logo on the back of the board.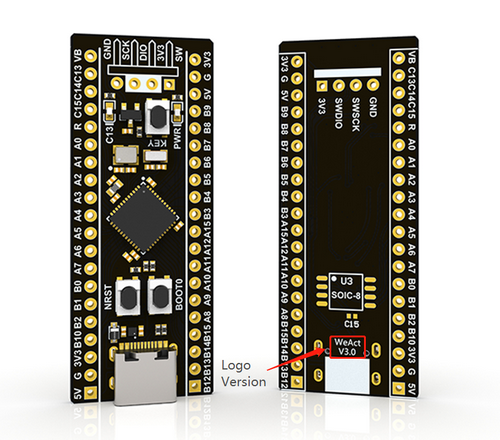 For MicroPython users, look at this stm32-base.org page.
Support quality developers by purchasing their products. It's also hard for the Chinese who hack each other!
In addition, in the event of a problem during your development, you will have no doubt about the quality of the MCU (Many Bluepill have fake chips).
The AdAstra-RTK project for the STM32F411 BlackPill

---
CORTEX-M0+ : STM32G071 and more
A port of AdAStra-RTK to the CORTEX-M0+ core.
The STM32G0xx family is extended: from 8 to 144 KB of RAM. The kernel is well suited for 32 KB and above, and its use with 8 KB is possible.
Try this powerful and inexpensive processor, it's great.
Download the AdAStra-RTK port to the STM32G071 here .
---
F4: NUCLEO-F429ZI, NUCLEO-F446RE
---
H7: NUCLEO-H743ZI, NUCLEO-H723ZG
---
L4+: NUCLEO-L4R5ZI
---
G4: NUCLEO-G431RB, NUCLEO-G491RE
---